On the road again...
I'm: Wanting to play WoW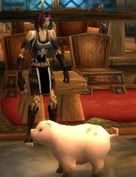 Today marks the begining of my newest adventure! Daniel and I are going to Savanah for St. Patricks day to visit Eric and Anthony, I've never been so it should be pretty fun. They said there's a big parade or something down there and we're going to be making a movie. Yay for travel!
Update when we get there!
Ashley